Rose Plants Are Grown
For Their Sheer
Beauty And Fragrance

The number of homeowners who introduce rose plants into their garden each year is quite staggering. I suppose considering the sheer beauty and fragrance of these delightful flowers we shouldn't be at all surprised.
If you like to plant roses, before you buy any variety, ask yourself what characteristics you would like from your roses.
Different varieties have different characteristics, such as fragrance, heartiness, and size. The traits that you want the most from a rose bush will influence your decision on which variety to plant.
Rose plants fall into five main groups, Hybrid Tea, Floribunda, Miniature, Climbers and Shrubs.
To grow rose plants successfully you will want to choose the best location possible. For the most desirable results, a sunny spot out of cold winds is most beneficial. The soil should be a medium loam, rich in nutrients and humus and slightly acidic.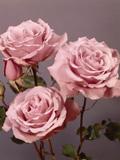 Look at your planting area before you purchase any rose bushes. Some varieties of roses can be finicky in the type of soil or planting environment that they need.
On the other hand, there are other varieties of rose plants that are hearty enough to tolerate a wide variety of conditions. So, when you know which type of growing environment your roses will live in, you can choose the most suitable variety.
---
Planting A Bare Rose Tree...

Bare root roses are best planted at the beginning of their dormant period to lessen the shock of transplanting. If the roots look dry, soak them in a bucket of water for a few hours before planting.
Remove diseased or damaged stems, and trim any thick roots by a third. Place the rose in a freshly dug hole, spreading out the roots and checking that the bud union is slightly above ground level. Backfill with soil and water thoroughly.
It's worth remembering that even the most expensive roses will only grow as well as the soil in which they are planted. It's highly unlikely that any garden soil is naturally perfect for all roses, yet with a little TLC any garden can be transformed into a suitable home.
Rose bushes that are more then 10 years old may show signs of disease and need replacing. If that is the case it's worth removing the old soil and replacing it with plenty of organic matter.
Pruning Roses...

To keep roses producing good flowers year after year they need pruning. If left unpruned rose bushes will become just a tangled mess with poor quality blooms on weak and twiggy stems.
Pruning eliminates old and tired wood, and encourages new growth and strong development of new stems. Whilst this won't present you with new flowers the following year it will provide a well shaped bush that continues to flower for a great many years.
During hot weather roses should have sufficient water to keep the root system healthy. Weeds should be removed on a regular basis, preferably with a garden hoe. This should be done cautiously as you do not want to damage the roots of the rose.
Rose Gardening Guide...

For offline reading this comprehensive guide to growing roses is a great asset to have at your side, and is recommended by the American Rose Society.
This is a practical guidebook that brings together the artistry of Rose Gardening with the green-thumb knowledge required to grow roses successfully.
Even if you have never grown roses before, this book will offer inspiration, beautiful photography, artistic and creative garden plans, and a host of historical information that you will absolutely love.
---
Roses That You Love, Write About Them Here
Have you grown a rose that you are particularly proud of? Share your story and tips on how you did it!
---
Climbing Roses
These roses should be included in the rose garden, as they provide wonderful color without taking up too much space
Floribunda Roses
For a continuity of Flowering blooms through the summer and fall
Ground Cover Rose
For covering unsightly and akward areas of your garden
Hybrid Tea Roses
Hybrid teas possess all the virtues required in a flower, beauty, fragrance and simple and easy maintenance
Miniature Roses
For stunning displays of flowers in and outdoors
Rose Garden Design
Selecting the right varieties of roses will compliment and accent your home's style and your vision
Shrub Roses
These work well for formal or informal landscaping
Rose Care
Essential for healthy rose plants and large blooms
Gardening Tools

›
Rose Plants