Leaf Blowers The Power Tool
For Clearing
Leaves And Debris
Leaf Blowers Are they really necessary?
If that pile of garden leaves is getting getting out of hand, and all that sweeping and raking is breaking your back, a leafblower may well be the answer to your dreams.
Cleaning up all those leaves and twigs in the fall can be a real pain and take a lot of your valuable time. Your work load can be made a lot lighter by using a leafblower.
A leaf blower is a handy gardening tool equipped with a powerful motor for blowing away leaves, and in some cases sucking up garden debris such as leaves and twigs by way of a vacuum, and then shred them into a bag, often referred to as a blower vac.
Leaf-blowers are usually all in one hand held devices, or backpack mounted with a hand held wand.
Generally they are powered by two-stroke engine but occasionally you will see four-stroke engines, these were introduced to address concerns about air pollution.
---
Hand Held Blowers...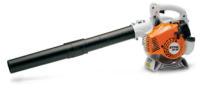 Regardless of the season, using a compact hand held blower will allow you to tidy up very quickly. You can zip through all that outdoor mess on stairs, paths, walkways and driveways comfortably and without fuss.
For the average garden a unit such as the gas Stihl BG 55 Handheld Blower shown here is an excellent choice. This model features a round nozzle for increased air volume, and quickly clears leaves and grass clippings from drive-ways and walk ways.
Having used this one I found it extremely easy and reliable to start. A couple of handy optional extra accessories are available such as a vacuum kit and gutter cleaning kit.
For large gardens, heavy duty work and prolonged use professional models are available. Some of these models include anti-vibration systems and easy grip handles to help lessen operator fatigue.
Leaf Blowers are available, cordless, gas and electric powered from Echo, Husqvarna, Stihl, Little Wonder amongst others.
---
Backpack Leafblower
For additional comfort and continuous work a Backpack Blower will provide all necessary power and performance
Echo Leafblower
Power blowers for both the casual user and the professional
Husqvarna LeafBlower
A range of quality leafblowers for the homeowner and professional

Stihl Leafblower
At last you can forget all about that backbreaking work, sweeping and raking.
Gardening Tools

›
Leaf Blowers