Garden Sheds
For Storage Or Workshop

Common garden sheds offer a variety of solutions for the gardener. It doesn't matter if you are interested in a storage shed to keep your gardening tools out of the harsh weather, a specialty shed where it can double up as a workshop, or an extra-large structure that can be used as an office, there is a one to meet your needs.
Sheds come in all different qualities, materials, sizes, styles and finishes, and you need to think carefully about the primary use for your shed before you decide to purchase.
Do you find it a chore to get to your garden tools because of the kids bikes? Have you a hard time locating the garden spade?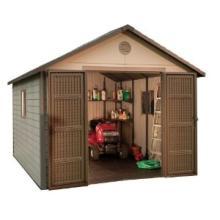 If you happen to have a large lawn mower particularly a riding mower make sure the door is wide enough. A ramp would also be a handy feature.
The shed shown here is an 11-by-11-Foot Storage Shed from Amazon
It's quite likely you already have a shed, possibly one that's seen better days and contemplating investing in a new one, or maybe you've just out grown the old one.
---
One things for sure...
Whatever your storage requirements are there is a bound to be one for you. And if you're the kind of person that prefers to build your own shed you can purchase one in kit form, or go the whole hog and get a set of garden shed plans and build one from completely from scratch.
If not than several companies will supply and install for you, an option that you may prefer, particularly if you already lead a busy lifestyle.
As with all gardening equipment shed prices will vary considerably. This will generally be due to the materials used and the construction.
Like for like you will pay more for quality!
---
Preparing A Site For Your Shed...
When choosing a spot for your shed, make life easier for yourself and try to keep it near to where you will use it most often. Resist the natural impulse to put it in a distant corner of the garden just to keep it out of view.
If you are having it installed by suppliers you will want to make sure you have the foundation in place before hand. Larger sheds can be pretty heavy and will require a sound and effective foundation
Paving stones can provide a basic economical foundation for smaller sheds, however there are other alternatives, such as a concrete base that will last longer and provide an improved base. Raising the shed off the foundation with blocks or concrete lintels will help to prevent timbers from rotting.
---
Garden Storage Sheds
If your garage is full of the kids bikes and close to breaking point, and your garden is beginning to look like breakers yard it's time to consider a storage shed.
Potting Sheds
A quality shed will protect and nurture your plants giving you a head start to the growing season.
Shed Kits
Building from a kit means you are free to customize it in any way you see fit, adding options to suit your specific requirements.
Shed Plans
For keen gardeners and diy enthusiasts
Gardening Tools

›
Garden Sheds