Potting Sheds Are Where The Growing Season Begins
If you love to get your plants off to a good start, Potting sheds are the place where the working day begins.
It's just great to be able to get back in the garden after a long hard winter and to start off a new growing season.
The spring is a particularly busy time of the year with the sowing of seeds and potting of plants for transplanting outdoors later.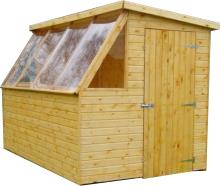 There are a host of sheds available for the gardener to consider, differing in both quality and design.
A quality shed will protect and nurture your plants, it will be durable, incorporate opening windows which will allow you to control the temperature, and possibly even double up as a greenhouse, as well as providing many years of useful service.
Additionally the shed if large enough, can also double as a storage shed. Large gardening tools such as shovels, rakes and hoes are best hung on hooks on the wall.
Smaller hand tools such as trowels, forks and secateurs can be kept on or near the bench along with pots and compost.
Tools can of course just be propped up in a corner, but this frequently leaves you tripping over them or leave you sorting through a pile of tools to find the one you want.
One Thing's For Sure...
It's far better start off as you mean to continue, organized!
---
Potting Bench
A well built potting bench will provide a stable base on which you can carry out all your early season chores, and provide your seedlings, cuttings and plants with light and gentle heat from the sun's rays whilst keep them from the harsh elements.
Potting Shed Kits
If you're the kind of gardener that also likes a little diy you could also consider building your own shed, this way you can customize it to your hearts content and add features that may not be available in those bought from a store.
---
Return From Potting Sheds To Garden Sheds Main Page