Choosing A Chain Saw For Occasional Use And Property Maintenance
A chain saw is a compact, portable mechanical saw, that is powered by electricity, compressed air, hydraulic power, or in most cases a two-stroke engine.
Although the vast majority of gardeners will probably not require this power tool, those that do will find it indispensible.
Gardeners with many trees or areas of woodland where tree felling and pruning needs to be carried out, can save a small fortune by doing it themselves.
In addition to cutting large branches it is the ideal tool for thinning shrubs, or cutting logs and firewood for the woodburner or log stove.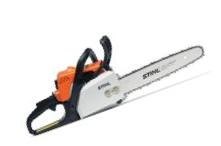 Several companies such as Stihl produce smaller and more compact models such as the MS 170 (shown here) which is ideal for the occasional user and probably more than adequate for the majority of gardeners.
This piece of gardening equipment is extremely powerful, moderately heavy and unless used properly can cause serious injury. Many companies run training courses for using and maintaining these tools. In any event it would be a wise move to have a helping hand with you whenever using them.
---
Chain Saw Maintenance...
Chain saws are precison tools that should be maintained regularly if it is to perform at it's best. The vast majority of chainsaws with two stroke engines will require two sources of lubrication.
The engine is lubricated by its fuel, which contains approximately 2-5% oil (this depends on the oil being used) blended in the fuel. A separate chain oil or bar oil is required for the external lubrication of the bar and chain. This information will be found in the users manual.
Safety Issues...
This gardening tool is a wonderful device but does not come without risks to the user. Despite many safety devices being added to the overall design over the years serious accidents can still happen. It goes without saying that protective clothing, including googles and helmet should be worn whenever using the chainsaw.

Perhaps the most common accident arises from kickback, this is when a chain tooth at the tip of the guide bar catches on wood without cutting through it, throwing the bar (with its moving chain) in an upward arc toward the operator, frequently causing serious injury or in some case death.

Felling trees or cutting large branches is potentially another dangerous situation. In the event that a heavy timber falls in an unplanned direction before the cut is complete a user could become crushed.
---
Chain Saw Sharpener
A well maintained, sharp chainsaw should be able to cut through any wood with hardly any effort
Oregon ChainSaw Sharpener
For casual and professional use
Echo Chainsaw
These power tools are a long term investment, and Echo with in excess of twenty models ensure all their chainsaws are certified to the highest level of useful life.
Husqvarna Chainsaw
These saws are acknowledged worldwide for their powerful engines, razor sharpness and performance
Husqvarna 353 ChainSaw
This saw is a professional saw with high capacity across a wide rpm range.

Poulan Chainsaw
The perfect choice for cutting firewood and tree limbs around your property

Stihl Chainsaw
Homeowners can be confident that there is a saw within the Stihl range to match their needs.
Gardening Tools

›
Chain Saw