The Husqvarna Chain Saw Offers A Degree Of Power And Reliablity That Is Hard To Match

The Husqvarna chain saw is renowned for it's powerful engine, razor sharpness and efficiency. This is a tool that offers remarkable efficiency for the casual user as well as the professional.
However, before rushing out to purchase a chainsaw make sure you get one that will be appropriate for the work you intend to do.
A lighter saw is much easier to handle and a better choice if you are inexperienced. Easy accessibility to the air filter , spark plug, and easy chain tensioning will save you both time and energy.
Design is just as important as low weight. Low vibration levels in the handles, a slim and well-balanced saw body are most desirable features, even though you may only use the saw on a part time basis.
The Husqvarna chain saw is available in many different forms and they can be as simple or as complicated as you need them to be.
Ultimately it boils down to how frequently you intend to use them, your experience and of course your budget. The vast majority of features and extras can be compromised on without any problems, except the safety aspect.
The Husqvarna 353 chain saw is just one from their  professional range of chainsaws. It has a large following of dedicated followers who would just not use any other saw. Below are several models from the premier range.
---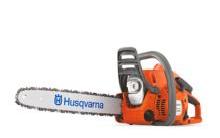 Husqvarna 240...

Both of these models are well suited for tasks such as pruning, lighter cutting duties and hobby work.
Home users will appreciate how easy it is to start and operate, and with it's built-in Husqvarna features such as ergonomic design, facilitating technology and powerful X-Torq engine with low emissions it is an excellent choice for the casual user.
Furthermore, it delivers reduced fuel consumption and lowered exhaust emission levels that are in compliance with the world´s most exacting environmental standards, and highly effective anti-vibration dampeners which absorb vibration, sparing the operator's arms and hands.
Importantly,for safety it has an Inertia activated chain brake which lessens the chance of injuries as a result of kickback.
In addition to the above the 240 e-series provides fast, simple chain tensioning and assembling of the bar and chain without the need for any tool, whilst the engine and starter have been designed so the saw starts promptly with minimum effort.
Husqvarna XP Series...

Professional Husqvarna chainsaws are extremely robust saws that have been developed for daily operation and are meant for users who demand the very best.
The XP range of saws are the most efficient and best perfoming in the range. These ultra powerful robust saws provide the operator with the greatest durability for the heaviest work.
Husqvarna 339 XP...

This is the intro professional Husqvarna Chain Saw. It is a lightweight smaller pro saw that is ideal for working in the tree or on the ground. Providing exceptional balance it is an excellent option for elevated bucket work.
The ergonomic design with it's narrow saw body, high center of gravity and flat underside contribute to reducing operator fatigue, whilst a high power-to-weight ratio boosts productivity for the arborist or urban forestry worker.
With around twenty different professional models available you can be sure to find one to match your requirements.
---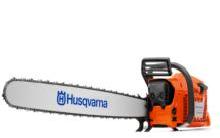 Husqvarna 3120 XP...

This is the premier saw in the range and is amongst the most powerful chainsaws currently available.
The main applications for the 3120 XP is extreme logging, portable saw mills, and stump work.
This heavyduty easy to start chainsaw was designed to pull the chain on the longest of bars, up to six feet, and like all Husqvarna saws it features a superior power to weight ratio.
This is definately one for the professional!
---
Write A Review
Do You Own a Husqvarna Chainsaw? Send us the pros and cons!
Gardening Tools

›
Chain Saw

›
Husqvarna Chain Saw