Husqvarna 353 Chain Saw
The Husqvarna 353 chain saw is a professional saw with high capacity across a wide rpm range. The E-TECH® series engines help to reduce exhaust emissions, whilst it's high-power, low weight, slim body and high centre of gravity make it both powerful and easy to use.  This is an extremely popular model receiving numerous positive reviews.
Many operators enjoy the wide power band that makes this saw so exceptionally versatile, and the Smart Start® fuel pump system for easy starting.

It incorporates a number of interesting features, including a centrifugal air cleaning system that removes larger dust and debris particles before reaching the air filter.
This results in reduced air filter cleanings and an improved engine life. The ergonomic design makes it very easy to use, allowing the user to work far longer with less fatigue.

It also has a LowVib® system that has been designed to reduce vibration levels to the operator, which also helps to lessen fatigue.

I purchased this chainsaw over a month ago and have used it virtually everyday. It rips through everything from 1 inch tag alders to 20 inch poplars. Great Saw! .. Jim Stillwell

Users will also appreciate the combined choke/stop control which allows for easier starting, and reduces the risk of engine flooding. whilst the side-mounted chain tensioner permits easy access to the chain tensioning device.
Additionally there is a snap lock cylinder cover, a real time saver when it comes to changing spark plugs and cleaning.

On the safety front there is an inertia activated chain brake that reduces the likelihood of injury due to kickback.

The 353 is just one in a whole range of premier and professional Husqvarna Chain Saws. Certainly not the most expensive, but has a host of enviable features and out performs many other more expensive competitors.

---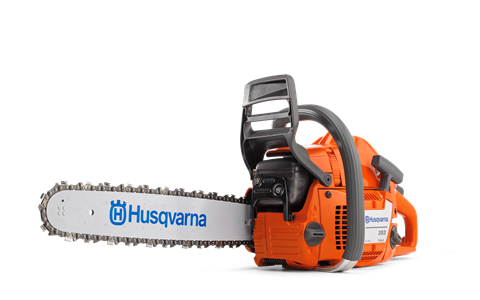 Husqvarna 353 Chain Saw Specification
Engine specification Cylinder displacement   51.7 cc
Power output  3.3 hp
Maximum power speed 9000 rpm
Idling speed 2700 rpm
Spark plug Champion RCJ7Y, NGK BPMR7A
Electrode gap   0.02 "
Lubricants Oil tank volume 0.59 US pint
Oil pump type Adjustable flow
Oil pump capacity 5-12 ml/min
Vibration & noise data Equivalent vibration level (ahv, eq) front/ rear handle 3.1/3.2 m/s²
Sound pressure level at operators ear 102 dB(A)
Sound power level, guaranteed (LWA) 112 dB(A)
Cutting equipment Chain pitch .325"
Recommended bar length, min-max 13"-20"
Chain speed at max power 56.76 fts
Overall dimensions Weight (excl. cutting equipment) 11 lbs


---
Gardening Tools

›
Chain Saw

›
Husqvarna 353 Chain Saw