Cut Trees Down To Size
With A Log Splitter

Not everyone will require a log splitter, and those that do they will often find that cutting down many trees and then splitting logs for either business or home can be a challenging undertaking at the best of times.

Taking down trees can be a difficult and sometimes dangerous task, and as bringing trees down safely is of paramount importance the use of a chainsaw to trim away the branches, and then cut the trunk into managable sections has been the accepted method.
Another tool sometimes used is a maul, which usually has a wedge-shaped head, weighing around 4kg, however, there are more modern variants with conical heads or swiveling sub-wedges.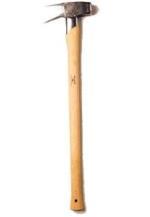 This is operated by driving the sharp end of the maul through the center of the trunk, which is then sliced into halves, then quartered, and finally stacked and allowed to dry for before being put to use as fire wood.
This can be tough and demanding work if there are a lot of trees to deal with. An easier and more time efficient way to cut down trees is by using a log splitter, this is a heavy duty piece of equipment that will do the job in significantly less time. Many electric splitters employ a rod and piston assembly, which can exert in excess of 10 tons of pressure.
The one shown here is a Gransfors Bruks Splitting Maul which has a hefty 51/2 lb head and 31" handle making it an incredible wood splitting tool. The poll is designed for pounding on a splitting wedge
---
Pow'R'kraft 7-ton electric log splitter...
This electric splitter has a dependable 1,500 watt/2,300 watt output electric motor that runs on regular household current with a ground fault breaker that protects against overload.
This incredibly designed 2-speed electric motor provides 4-ton force at faster speed and a 7-ton force at a lower speed, with the same single phase motor.
As the wood is splitting it requires a high force (lower speed) for a short period, after the wood is split the higher force is not needed. At this point the operator can switch to lower force (faster speed). This electric log splitter will splits wood up to 20-inch long and up to a 12-inch diameter.
---
Gas Log Splitter...

For forestry work and heavy logging that is a long way from a power source, a gas powered splitter is far more useful. The splitter can be transported to the location and cut logs put on a truck for transport.
All models use a piston to drive the log through a stationary blade. Some models have additional features that prevent the split tree parts from falling away, thereby allowing the operator to move the logs around quickly for a second pass if required.

As with all machinery, splitters should be treated with caution, and it is wise to have training in the correct operational procedure before using one.
It's impossible to say with any degree of accuracy how a log will behave when it comes into contact with the splitter blades, and as they can be hit with a force of 10 tons of force they require a great deal of respect.

---
Brave
BRAVE has a complete product line with a model for every application.
Huskee
There are three models currently available 22 ton, 28 ton and the 35 ton
Super Split
Possibly the fastest and most efficient wood splitter available today

Timberwolf
All of their models use the reliable Honda engine, and as their log splitter frames are cut and welded in-house they have total quality control.

---
Gardening Tools

›
Log Splitter