Garden Trees

When it comes to choosing garden trees it can sometimes prove to be a little challenging, particularly if you have a smallish to medium size garden. Nevertheless trees are important not only for our environment but also for the natural beauty they add to our gardens.
Virtually every garden has space for smaller sized trees, and without doubt they add a certain character to the garden landscape.
There are many wonderful decorative trees that could be planted, such as the exquisite and colorful Red Maple, which has become a real hit with gardeners in recent years.
The Sugar Maple tree too is an extremely popular tree, full of color and the primary source of Maple Syrup.

The first year in a tree's life is generally the most crucial so learning how to take care of them is critical for success. As soon as your trees have settled in and started to make good growth, only general maintenance and tree pruning is required.

Apart from providing color and structure to our garden landscape they can offer shelter and shade during the summer months. In addition to the more convention upright tree, rows of small espaliered trees can be added and trained into decorative shapes and function as a living fence.

It is essential to take your time in deciding on the best shape and size of garden tree and to consider exactly you want you want to achieve from it, as it will almost be impossible to move once established. Rarely has the consideration of selecting the "right plant for the right place" been more vital in gardening than with trees.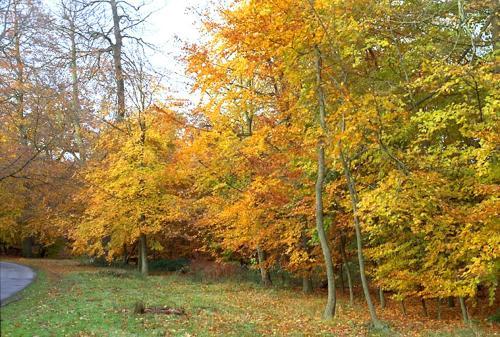 ---
Planting Trees..

When it comes to planting new trees you will find it an easy enough task, but one that needs to be done correctly, if your trees are to get the best start. The most significant factors to consider are root health, weather, soil conditions and of course aftercare.

For most people the best time to carry out planting is between October and April, although if your are using containers they can be planted most anytime of the year. However if planted during fall or winter they will need significantly less watering than those that are planted in spring or summer.

The best method is to use bare-root trees which are only available in the fall and winter and plant them right away. If for some reason this is not practical, the roots should be watered well and temporarily planted in the soil to prevent drying out until planting can be carried out.

Springtime is an amazing time of year for the gardener. The garden starts to come to life, with flowers, shrubs and trees showing a glimpse of their beauty. Blossoms abound from fruit trees, and the gorgeous cherry blossom, which provides an amazing aroma is there to be appreciated by all.

---
Gardening Tools

›
Garden Trees