A Stihl Chain Saw Makes
Easy Work Of The Most
Demanding Tasks

The Stihl chain saw is probably the most widely used of all chain saws worldwide, and is a popular choice for home users and professionals.
With so many different excellent chain saws from which to choose, you can be certain that whether you are just a casual user or a full time professional there is a chain saw to match your needs.
If you have ever considered owing a chain saw, Stihl must come high on the shortlist of reliable and dependable chain saws.
It doesn't matter whether it's a basic chain saw for casual use, or one that has a high power to weight ratio for optimum performance, they have an excellent range of chain saws for the home user as well as the landowner and professional.
The two models of the Stihl chain saw here are from the homeowner range, having engine power of 1.3 kW and 2.2 kW respectively.

---
Stihl MS 170...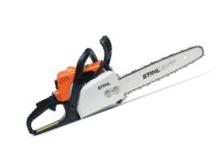 The Stihl MS 170 is a compact, lightweight chain saw with just the right amount of power, and which incorporates the same great design features as professionals rely on.
You will find that this power tool is a real workhorse, which enables you to cut and trim small trees, and slice through firewood with ease. All in all the ideal saw for residential use.
A rear hand guard (present on all models) lowers the chance of injury, as well as offering a wide area for foot placement during starting, and the chain brake system has been designed to stop the chain in fractions of a second. Their high tech polymer housings being light-weight, tolerate greater impact, and are corrosion-resistant.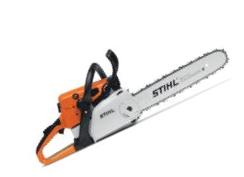 Stihl MS250 C-BE...
Stihl's top model for casual users is the Stihl MS 250 C-BE. This revolutionary chain saw features the Easy2Start™ system, making it essentially the most flexible in the series.
Having just the right amount of power to weight ratio, you will find it so much easier to start. Now at last you can stop wasting your time attempting to start your chain saw, and devote more time to getting things done.
All Stihl Chain Saws have a number of common features, such as the translucent fuel tank which makes it possible for the user to check the fuel level before commencing work, an air filter cover for fast and easy filter cleaning or replacement, and an anti-vibration system to help lessen user fatigue.

Additionally their Ematic™ Bar incorporates a polymer ramp reservoir which holds bar oil until it can be picked up by the passing chain. This can reduce oil usage by as much as 50%.
Electric Chain Saw...
In the event that a gasoline powered model maybe more than you require, Stihl have three models of an electric chain saw which provides the power of a Stihl but with the convenience of an electrical socket.
---
Write A Review
Do You Own a Stihl Chainsaw? Send us the pros and cons!
---
Gardening Tools

›
Chain Saw

›
Stihl Chain Saw