Blow Away Leaves And Debris With A Powerful
Backpack Leaf Blower
For additional comfort and continuous work a Backpack Leaf Blower will provide all the power and performance necessary for a quick, clean and efficient job.
There are a variety of quality backpack blowers available from leading companies including Echo, Stihl and Husqvarna. But, irrespective of the brand and model you decide upon, there a number of points to consider.
The blower should have an efficient vibration-dampening system to minimize vibrations, and the engine should be reliable and powerful enough to provide easy starting.
And...
As you will be using the blower for extended periods it needs to be as comfortable as possible, so a load reducing harness with hip belt and wide shoulder straps are paramount.
---
Stihl Backpack Blowers
Stihl are well known for their leaf blowers, which offer all the power and performance that professional landscapers and discerning homeowners have come to expect.
They provide dependable starting, and are comfortable in operation, and as they are both fuel efficient and strong, can deal with the most difficult tasks.
Regardless of the model you choose you can be sure it will have an abundance of power, professional efficiency as well as some of the "greenest" backpack blowers on the market.
---
Stihl BR 200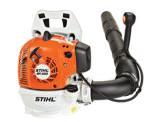 Although the Stihl BR 200 is designed for the occasional user it delivers professional power and fuel efficiency. It is the perfect choice for blowing leaves, debris and grass cuttings, and has more than enough power to undertake practically any task imaginable.
Its lightweight backpack design and anti-vibration system provide you with increased comfort and help in reducing fatigue. Users will appreciate easy starting and a much simplified starting procedure.
Other features include a tube-mounted throttle for ease of use and single-handed operation, a large fuel tank for longer run time and a two-ringed piston for extended life.
BR 430 Professional Backpack Blower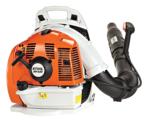 This Backpack leaf Blower delivers the reliable power that professionals require to accomplish the toughest of jobs. Its state-of-the-art engine offers cleaner emissions and much better fuel economy than regular 2-stroke engines, thereby reducing impact on the environment.
Additionally it has a large fuel tank allowing it to run for longer. It is ergonomically designed to help minimize user fatigue, and an leading-edge anti-vibration system means more comfortable operation.
A straightforward starting procedure makes it a lot easier to start, while the back padding, broad shoulder straps and a rubberized grip provide plenty of support during use. And coveniently the tube-mounted throttle allows for single-handed operation.
BR 600 Stihl Magnum
At the top of the range is the Stihl Magnum professional backpack leaf blower, which offers proven fuel efficiency, in fact up to 28% greater improvement in comparison with competitive models tested.
The new nozzle design has an extended wear area intended to prolong the life of the equipment, and the specially designed nylon harness provides high wear resistance.
Users will love the easy-to-adjust blower tubes which offer flexibility for a wide variety of tasks. Additionally it is among the cleanest running backpack leaf blower in its class, with emissions 69% cleaner than current EPA requirements.
A great choice for homeowners and professionals who demand reliablity and efficiency
---
Gardening Tools

›
Leaf Blowers

›
Backpacker Leaf Blower