The Stihl Leaf Blower Will Clear All Your Garden Debris Effortlessly Saving You Time And Energy
The Stihl leaf blower is undoubtedly one of the most powerful blowers to be found anywhere, and has been designed to help you save time and effort.
If all those leaves and grass clippings are getting you down, and you're fed up with all that back breaking work sweeping and raking.

Then the Stihl blower is just the tool to make your life a whole lot easier.
Regardless of how challenging the task, there is a Stihl blower to deal with it.
Stihl have a complete range of handheld blowers, backpack blowers, sprayers and shredder vacs, so you won't be left wanting.
---
STIHL Handheld Gas Blowers
BG 55 Blower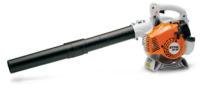 These extremely powerful, low-emission, fuel-efficient blowers will enable you to cleanup super fast. You will be able to power right on through all that backyard clutter on pathways, stairs, walkways or drive-ways.
Stihl blowers are comfortable and easy to use and will allow you to clear all that garden debris into plies for rapid disposal.
For the occasional user the BG 55 handheld blower is an excellent choice. It features a round nozzle for increased air volume, quickly clearing leaves and grass cuttings from drive-ways and walk ways. Users will appreciate how reliable it is to start will a low pull force.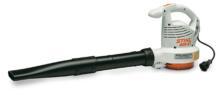 BGE 61 Electric Handheld Blower
If you prefer an electric blower but not sure whether if they are man enough for the job. You will want to check out the BGE61. It is light in weight and very high-powered.
A great tool for tidying up debris and grass cuttings in the backyard or garden. This particular blower is part of a completely new generation of STIHL leaf blowers that are quiet and easy to work with.
It also incorporates a cord retainer to keep you connected so you can get the task finished
BGA 85 STIHL Lithium-Ion Handheld Blower
Want to go cordless?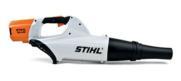 This handheld blower offers groundbreaking technology with it's lithium-Ion battery. The BGA 85 offers eco-conscious know-how to enable you to lessen your overall effect on the environment.
It removes fuel costs and engine emissions, and operates quieter than its gas driven counterparts.
Additional features include lowered vibration for enhanced operator ease and comfort, and starts instantly with the pull of a trigger.
The impressive 36-volt lithium-Ion battery provides exceptional performance, with an amazing 102 mph at the nozzle, as well as a high-torque, commercial grade electric motor which translates into extended motor life.
This blower is great for quick cleanups, particularly in noise sensitive areas.
BG 86 C-E Handheld Blower
And for the professional user, the top of the line BG 86 C-E Handheld Blower is packed with power, and run by a fuel-efficient low-emission engine.
It has all the convenient features professionals will truly appreciate. including a four-spring anti-vibration system and soft grip handles to help lessen user fatigue.
---
Return From Stihl Leaf Blower To Leaf Blowers Main Page