The Wheelbarrow
An Indispensible Tool
For The Keen Gardener

A good garden wheelbarrow should be built well and have a capacity large enough to deal with absolutely any task you are likely to come across in the garden. They should be evenly balanced so that it's easy on your back and shoulders.
From the smallest to the largest gardens you will find times when you have to tackle a large project and need to move things around.
It is at times like this when you will realize that a garden barrow is an indispensible garden tool.
So,which type of wheel barrow should you choose?
Generally wheel barrows are constucted from long lasting durable materials such as galvanized steel or heavy duty poly. The typical design has a sloped tray, one wheel at the front, two legs and two handles.
Although there are more recent designs that have a dual wheel assembly which makes them less prone to tipping over. line
It's design enables it to keep stable when being loaded, and helps to make it straight-forward to maneuver when full. When it needs to be emptied it is simply lifted forwards.
Although the steel wheelbarrow is popular in the building industry because of its' strength, the majority of homeowners seem to prefer poly as they are lighter, extremely durable and do not corrode.
One point to bear in mind is that you shouldn't try to overload the barrow, particularly in wet conditions or difficult terrain, because unless you keep them well balanced you may find them tipping your load over where you really didn't want it to be.
Sometimes a small load is better and quicker!
If you think that you'll only be moving relatively light loads, such as grass cuttings, leaves, branches and greenery, you may prefer a garden cart instead.
---
Ames True Temper...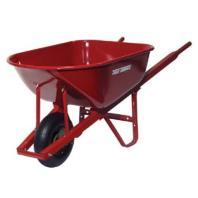 The Ames True Temper S6 barrow features a silky smooth roll with the oil lite bearings on the pneumatic tire, and the large tub is made from seamless steel that is easy to clean.
The tub is reinforced with front braces and a rear H brace that provide support and durability when hauling and dumping heavy loads.
Long hardwood handles are durable and will withstand hauling heavy rocks, soil, or supplies. Take one trip from the tool shed back to the backyard with all your supplies in the True Temper 6 cu ft garden barrow.

---
Gardening Tools

›
Gardening Accessories

›
Wheelbarrow