Stihl Hedge Trimmers provide All The Power Necessary To Cut Hedges And Shrubs Neatly And Efficiently
Stihl Hedge Trimmers take all of the drudge and tedious work out of trimming hedges and shrubs. They have been designed with the both the homeowner and professional in mind.
Hedges and shrubs can be either decorative or practical, however when it comes to their visual appeal, you are looking for the very best looking trees and shrubs possible.
It's well known that a properly landscaped property can beautify any home and add a touch of class and sophistication, which also reflects in it's value.
If your primary objective is to have hedges that are trimmed neatly and accurately with smooth, clean lines, the range of Stihl hedge trimmers provide plenty of power and with a number of blade degrees it makes sure you can get the job done fast.
Gasoline Powered Hedge Trimmer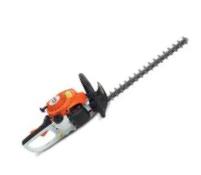 Standard to all gas trimmers are double sided reciprocating blades with integrated cutter guard with the exception of the single-sided HS 86 version.
Additionally they have an easy access air filter, front hand guard, anti-vibration system and start/run/stop controls on handle.
Other features include the throttle starting lock, upright fuel tank with retainer cap,heavy-duty gearbox,large front handle for multi-position cutting and a useful built-in hanger in rear handle for easy storage.
Electric Powered Hedge
The electric trimmer has a double-sided reciprocating blade, heavy-duty gearbox and employs a lightweight and well-balanced design.
It has a large front handle for multi-position cutting and is furnished with an extension cord clip on handle.
For storage there are screw slots in the scabbard which make it very convenient for hanging on a wall.
---
The Stihl HS 45 Hedge Trimmer
If you're a casual user who intends to do only light trimming and require a close to medium cutting range than the HS 45 model shown above is an excellent choice.

It's available with either an 18" or 24" dual-reciprocating double-sided blade, integrated cutter guard, and its high torque engine adds plenty of power without adding any extra weight.
For homeowners with large gardens and professionals looking to do heavier work there are several other Stihl models to choose from.

---
Return From Stihl Hedge Trimmers To Hedge Trimmers Main Page