Create Stunning Effects
With Patio Lighting
Choose the right patio lighting and you will be able to get far more use out of your garden patio. it can provide an element of drama, that can be enjoyed from the comfort your home through the chillier months. Just visualize for a moment the effect of subtle lighting when the garden is blanketed in snow.
All electrical lighting systems powered from the mains should be installed by a qualified electrician. Safety regulations stipulate how deep electric cables should be buried, and these should be adhered to for the safety of you and your family.
As with cabling for a pool, the lighting cables should be laid before the patio or terrace is built. If this is not possible they should be buried where no digging that could damage the wires is likely to take place.

Remember that outdoor lighting should be designed to be seen only within your own garden. Your neighbours may prefer their gardens to be dark at night and you need to respect that.

Types Of Lighting...
The simplest way to illuminate your patio is with candles or flares. Obviously, these are not permanent, and they must be supervised at all times. Both of these options are best in still weather, however flares are much less likely to blow out than candles if the wind does pick up a bit.
However, you will need to ensure that they can be properly supported in the ground or in stable containers. Candles be housed in lanterns and distributed around the patio or suspended from trees.

Low voltage lighting is inexpensive and can be used to light paths and create interesting light displays. Solar powered lights are available just about everywhere. They are relatively cheap and are ideal for this purpose.

Floodlights are much more powerful, and many dramatic effects can be achieved if they are sited with care. If there is a tree overhanging the patio, it is a lovely idea to festoon it with fairy lights (colored or white bulbs) or individual lanterns.

Underwater lamps can be used to light up a pond and will keep any fish active until well into the evening.

---
Choose your lighting wisely and you will be able to make the maximum use of your patio, and it will be a place that you and your friends will be able to enoy and relax in throughout the year.
Sunsetter Lighting

These beautiful weatherproof Sunsetter patio lights are made of tough, unbreakable Lexan® and take standard 60 watt bulbs for plenty of illumination for evening activities.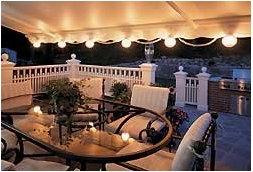 The smoke-colored prismatic globes diffuse the light so there's no harsh glare. They look so festive they're great for entertaining.
They are sold in sets of six lights with a "stretch coil" cord plus 20 additional feet of cord between the plug and the first light.
"These lights are very nice and they can be used on any awning not just Sunsetter. Pretty easy to install too!"
---
Diy Lighting Installation...

---
Gardening Tools

›
Garden Patio

›
Patio Lighting