Reduce Garden Waste To
Fine Mulch With A
McCulloch Shredder

The McCulloch Shredder allows you to take care of all of your garden and yard waste, and lets you do your part to help protect the environment.
The model shown below is the MCS2001, a 14-Amp Electric Chipper/Shredder.
Featuring an ETop hopper design and a three-way feed, this handy tool makes quick work of twigs, branches, and other garden debris.
It can even save you time and money by enabling you to produce your own mulch.

This chipper/shredder incorporates a 14 Amp induction motor and three-cycle shredding system for really fast results, providing a peak power of 2.5 HP.
The MCS2001 makes extremely quick work of small branches and tree limbs with a diameter measuring up to 1.5 inches, as well as leaves and brush.
Its three-cycle shredding and mulching system ensures consistent, quality results, even after repeated use.

---
Straightforward, User-Friendly Operation

It is exceptionally user-friendly. Simply turn the shredder on with a quick flip of the switch, and in just a few seconds the MCS2001 reduces all of your yard waste to a pile of finely shredded wood that you can dispose of or re-purpose as mulch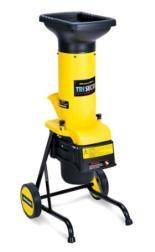 Designed with safety in mind, it boasts a patented top hopper design and tamper that keeps fingers away from the V-type blade at all times, and because it's powered by electricity, it offers quieter, cleaner operation and avoids the mess and pollution of gas.

Seven-Inch Wheels for Portability

The McCulloch Shredder is efficient and easy to assemble, and features seven-inch wheels for portability and maneuverability, complete with a rounded discharge chute that's a snap to clean. For added convenience, the chipper is compact enough to store in your home, shed or garage.
---
Personal View...
Do not attempt to feed it anything that is too wet or green, and don't give it anything that is fibrous such as lillies or fresh cut grapes vines, or anything too hard like oak. You will find using it at a slow steady pace is measurably better than taking it apart to unclog it on a regular basis.
---
Gardening Tools

›
Electric Garden Shredder

›
McCulloch Shredder