John Deere Lawn Mowers Unrivalled Quality At
Affordable Prices

John Deere Lawn Mowers are renowned the world over for their quality and durability, and are the choice of many amateur and professional gardeners who demand only the best
If you're looking for a manicured lawn that grows vigorously and has dense growth it needs to be cut on a regular basis.
A John Deere mower fits the bill precisely, as it cuts smoothly and cleanly, and helps to combat disease, leaving you with a pristine lawn that will make you the envy of your neighbors.
Choosing a walk behind lawn mower, or riding mower for larger gardens will ensure you get your lawn cut quickly and comfortably.
These machines are economical and deliver powerful, reliable performance ensuring you get the job done quickly and efficiently.
You'll love the large, comfortable seats and the outstanding manouvreability provided by their lawn tractors, and their highly effective and efficient walk behind mowers won't disappoint you either, and with so many John Deere Lawn Mowers models available you'll definately find one that matches your requirements.
---
John Deere Walk Behind Mowers

John Deere JS26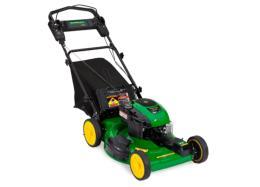 I have been impressed with their compact walk behind mowers which are great if you have an average to medium size lawn and limited space for storage.
However, you shouldn't be deceived by their modest size which belies their real power, as they get the job done extremely efficiently.
The front-drive John Deere JS26 shown here is manufactured to the highest standards to ensure reliabable performance, and the exclusive MowMentum™ Drive System for straightforward operation.
The 3-in-1 blade provided offers exceptional cutting performance and is designed for use when mulching, bagging, or for side discharge applications.
I particularly like the fact that the handles can be folded down after use for easy transportation and storage.
---
John Deere JS28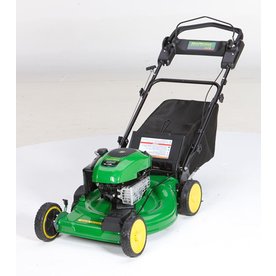 The John Deere JS28 walk behind mower provides is a 22-in Self-Propelled Gas Push Lawn Mower. It's patented Mowmentum™ Drive provides the user with far greater speed control.

It has a convert to mulch, bag or side discharge clippings with included attachments, and with it's durable 22" steel deck for additional durability, and large 8" rear wheels with bearings for smoother movement it is a great choice for the home gardener.

Having tried this mower I found it a delight to use, it is solidly built, but not too clunky or heavy. It has rubber traction wheels that don't lock up. It started the first time, pulled the mower very well including thel MowMentum Drive System, that works really well, and it is really easy to put it into lock so that it can back up for mowing in those hard to get to places.

Two other models complete the lineup.

The JS28, JS38 and JS48 all feature durable Briggs & Stratton
engines with a "Fresh Start" cap that automatically drips fuel
stabilizer to help prevent stale gas.
The JS38 and JS48 offer a convenient single lever height-of-cut adjuster, whilst the JS48 has an electric start for added convenience and a spin-on oil filter for extended life.

---
Gardening Tools

›
Lawn Mowers

›
John Deere Lawn Mowers