Hibiscus Syriacus

The Hibiscus Syriacus shrub is one of the most attractive of all late flowering bushes, having large saucer shaped blooms which very often a dark center. It is available in a variety of outstanding colors, and will grace any garden.


Common names include Shrub Althea, Rose of Sharon , Rose Althea, Blue Bird, Blue Satin and St Joseph's rod.
Ideally, soil should be free draining, in full sun with some shelter from driving cold winds.
Pruning is not essential which is ideal for a low maintenance garden, although plants can be kept in check by cutting back stems in early spring.
---
Rose of Sharon - Blue Satin...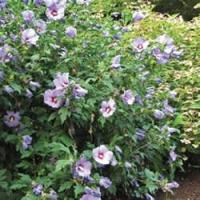 Hibiscus syriacus 'Marina' is a vigorous, bloom-happy shrub. It provides an abundance of flowers and the most beautiful coloring in the Hibiscus world. It just doesn't know when to stop flowering. Blue Satin has larger flowers, better color, more branching, and gives an all-around longer show.

You'll absolutely love these large 3-inch blooms, with magenta throats, and an ivory center that harmonizes with the strong royal blue tone of the petals.

The flowers are very uniform in color too, with no "washed out" end-of-season blooms. This is a moderate grower and pollution tolerant. Rose of Sharon favors full sun and well drained soil and being tolerant of heat and drought. It's a very good option for hot, dry areas where many other shrubs are not happy. It should be kept well watered during growth.

Blue Satin is a profuse bloomer and does best in full sun, but light shade is acceptable, particularly in far southern or southwestern climates. The option to shape Rose of Sharon also helps make the shrub a leading candidate for hedges.

---
Althea Syriacus - Fireworks...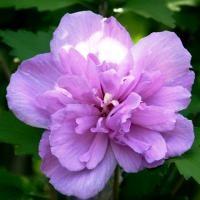 The Rose of Sharon - Fireworks is a spectacular, double blooming shrub that explodes into color for the entire summer.

This Hibiscus is different to the majority of flowering shrubs. Instead of blossoming during the springtime, the Rose of Sharon flowers in late summer or early fall. It's a marvelous way to add late season color to your garden landscape.

And what an amazing color it will be! The Rose of Sharon Fireworks is a unique collection of 3 different varieties. This provides splendid double blooms in shades of pink, lavender and red. Seeing multiple colored flowers on one shrub is quite a sight.

This intriguing shrub grows upright in a somewhat vase shape. It thrives in full sun, tolerating poor soil and scorching heat.

---
Lavender Chiffon...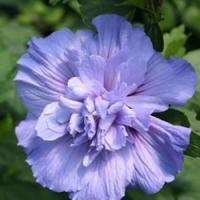 Lavender Chiffon Hibiscus syriacus has large, single lavender flowers adorned with a lacy center to create an anemone-like bloom that flowers in late summer.

It is wonderful for use in a mixed container to create a striking focal point. This excellent large shrub can be used for landscapes, whilst the younger plants may be grown in containers, but will need to be transferred to the garden landscape as they mature.

It can be made into an incredible plant when pruned into a small tree. Lavender Chiffon will grow in any type of soil except in cases where it is either really wet or dry. This deciduous shrub grows favors full sun, and can reach a height of 8-10 feet.

---
Gardening Tools

›
Shrubs

›
Hibiscus Syriacus