Use Decorative Gravel In Your Landscaping Project For A Stunning Effect
Decorative gravel is an excellent inexpensive but practical garden surface, and can be used extensively in landscaping projects, and low maintenance gardens.
It is attractive, trouble-free, easy-to-lay and harmonizes well with plants. It will conform to irregular outlines, and it can be effective in a large or small area.
Whole gardens can be turned over to gravel with some judicious use of complimentary paving and attractive planting. An edging is a good idea, otherwise the gravel will become scattered into surrounding areas.

Many garden centers and stone or builders merchants sell a wide range of decorative gravel in different sizes and colors. You will find the appearance changes according to the light and whether the stones are wet or dry.

---
Making a Gravel Bed...
You can set a gravel bed in a lawn or within an area of paving. In a large lawn a winding ribbon of gravel, designed to imitate a dry riverbed, can look very effective. If the garden is smaller, a more compact shape, perhaps oval or kidney-shaped, may be more appropriate.

Cut out a shape using a half moon edger (edging iron) and remove the turf about 10cm (4 inches) deep with a spade. If you want to grow drought-loving plants, dig in plenty of course grit.
For growing more hungry plants, add well-rotted manure or compost. The gravel needs to be about 5cms (2 inches) deep. Keep the gravel well below the surface of the lawn, otherwise it will spill on to the surface of the lawn and damage your lawnmower. Choose a size that will be noticeable if it does stray.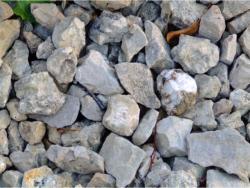 Large Gravel Areas...
For anything larger than a small island bed, consider laying a plastic sheet over the area to suppress weed growth. If the gravel garden is low-lying or in a hollow, provide a sump for excess water to drain into.
Ensure that the surface is quite smooth before laying the sheet, and overlap the joints. Tip the gravel over the plastic sheet and rake it level to make a 5cm (2 inches) layer.

Planting in Gravel...
Many plants will grow well in a gravel bed, but for a low-maintenance garden choose drought-resistant plants that won't need watering, even in dry spells. Scoop back the gravel and plant normally, but avoid planting too deeply and keep the gravel away from the immediate area around the stem.

If planting through a plastic sheet, scoop back the gravel then make cross-slits through the plastic. Enrich the soil with garden compost or fertilizer and plant normally. Fold back the sheet and replace the gravel, taking care not to cover the crown of the plant.

Gardening Tools

›
Garden Landscaping

›
Decorative Gravel