Coriander In The Herb Garden

Coriander also known as cilantro, Chinese parsley or dhania, is an annual herb that has become extremely popular in recent years, and is used extensively in Middle Eastern and Asiatic cookery. The leaves of this herb are delicious in curries and chutneys or used whole in salads or as a a garnish.
If you're buying it from the supermarket it works out pretty expensive, so it is worthwhile taking the time to grow your own.
As with the majority of herbs, coriander is easy enough to grow but there are a number of important things to bear in mind if you want to be successful.

There are several different cultivated varieties which are grown for their leaf or seed and may display variances during the spring or fall/autumn. They are an half hardy annual growing upto 75cm/30 inches in height.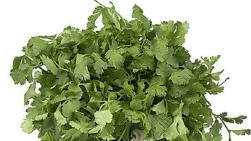 Seeds can be sown under cover from March to April or all year round in indoors. They can be sown outdoors between April and June.

Seeds should be sown thinly in pots or trays of moist compost and covered with glass or polythene. Keep moist and at an even temperature of 15-20 degrees centigrade. When sowing outdoors seeds should be sown in their final growing position and coverd with fine soil.

Remove the cover from plants grown indoors when seedlings appear, this plants out to other pots or trays in required.
If you intend moving them outdoors stand them outside for a few days at a time to harden them off (avoiding frosts). When ready they can be transplanted into their final growing positions approximately 20cm/8" apart.

If they are to be grown indoors they can be transpanted into 15cm/6" pots and placed somewhere light and airy. With a little care you will be able to harvest leaves and seeds all year round, saving on exorbitant shop prices.

Outside Coriander plants can be harvested from June onwards, picking leaves as required.

---
Gardening Tools

›
Growing Herbs

›
Coriander