Choose The Right Chicken Coop To Protect Your Chickens And Provide An Almost Endless Supply Of Fresh Eggs

A chicken coop is a must if you are considering raising a few chickens in your garden, after all you will want some where safe for them to sleep, and to keep them away from predators.
I have lost a couple of chickens to foxes, who are the worlds best opportunists and always on the prowl for a quick lunch. Let your guard down and they will be in amongst your chickens creating havoc.
You could always let them have the freedom of your garden during the day, but your lawn and vegetable patch will soon become a mud heap, and your once treasured veg patch will be no more.
Chickens are very easy to look after, requiring minimal maintenance. Just feed and water daily, clean out once a week, and you will have a constant supply of lovely fresh eggs.
However before you run out to purchase the first one you see there are a few things you may want to consider. Size obviously is important, as this will depend on the number of chickens you want to keep. But cleaning the coop and keeping vermin and predators out are important issues as well.
Make sure you choose a coop that has the nesting box raised off the ground to prevent rodents from chewing away the woodwork, getting into the nesting area and eating more feed than the chickens do.
Ensure that the chicken wire has a close mesh, and is substantial enough to keep roaming predators from gnawing their way in. Additionally get one that provides easy access for cleaning. I have come across some that are totally inadequate in this regard.
---
Portable Chicken Ark...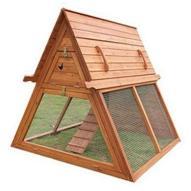 Chicken Coops For Sale...

Here is one example that ticks all the right boxes...
This Chicken Coop, Portable, for 3 to 5 hens is a spacious and efficient home for your chickens, offering a predator-proof home for up to 3 medium laying hens or 5 Bantams.
The design covers significantly less ground space than many other coops, and provides good all weather protection.
Having one full-length door it allows easy access to the lower run for feeding and watering, and lets chickens exit and roam free.
The nesting box is located at one end of the ark and has its own external egg collection door. A removable side door makes it possible for easy cleaning of the upper roosting chamber, and sturdy handles make it easy to carry.
---
Build Your Own Coop...
Are you feeling adventurous? Why not try your hand at building your own chicken run? You can see just how easy it is to do with a set of Catawba ConvertiCoop Chicken Coop Plans, and a few basic tools.

---
Gardening Tools

›
Chicken Coop