How To Build Your Own
Chicken Enclosure With
Chicken Coop Plans

Why Chicken Coop Plans?
Maybe you have been looking at some chicken coops to raise a few chickens, but haven't been impressed with those currently available, or maybe the ones you do like are just too pricey.
If that is the case you could look at the possibilty of building your own chicken coop.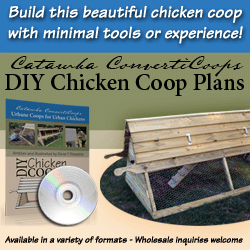 You could design one of your own of course, or you could go for a chicken run plan which has all the sizes and details laid out for you.
Chicken coops may look very similar, but you should make sure that whichever one you choose it fits in with your requirements.
The first point to consider is "how many chickens do you intend to keep"? You don't want to have a space too small if you want to keep your chickens in a healthy condition.
Design also plays an important part. Although chickens are easy to keep you still want maintenance kept down to a minimum. You will want to make sure that the coop has easy access, that is not always the case.
The fact is...
I have seen expensive coops where the sides have been screwed on making it a chore everytime they have to been cleaned out, and where nesting boxes are hard to get to.
Also, chickens can prove to be a target for rodents and predators, so I like to keep the nesting box raised off the ground and use a strong close mesh wire to keep the chickens safe.
Rodents can make short work of any coop, eating and chewing their way through to get at the chicken feed and bedding, so raising the nesting box off the ground will help to aleviate this problem.
Depending on the size of your backyard you may have little choice on where it can be located, but one placed in sunny position and out of the wind would be ideal. Chickens love the sun, just make sure they have fresh drinking water available at all times.
For the homeowner who wants to raise upto 10 chickens, plans are not expensive. The truth is, the most suitable chicken coop plans are the ones that help you reduce the building cost.
I must admit there are several designs I like but I do have a preference for the Chicken Ark, a design that is a space saver, easy to move around and amongst the most cost effective chicken runs that you can get.
---
Have You Built Your Own Chicken Coop?
Have you built a chicken coop that you're proud of? Why not share how you did it!
---
Gardening Tools

›
Chicken Coop

›
Chicken Coop Plans