For Delicious Fruit And
Beautiful Blossoms
Cherry Trees Are Hard To Beat

Cherry Trees are perhaps one of the most delightful fruit trees you can possibly keep, and regardless of what your garden or soil condition is like, you should be able to find a cherry tree that will prosper in your area.
They are well known for their delicious fruits, and are popular for their beautiful flowers and blossoms. The clusters of flowers that appear in the spring are rather breathtaking, and have inspired many a song or poem.
They work well as a central focal point and make a wonderful addition to any garden, and when they flower will take your breath away
There are two main categories that cherries can belong to. It is either a wild cherry or a sour cherry. Wild cherries are generally used for plain eating, and originated in Europe or western Asia.
In most cases if you buy a bag of cherries from the store, you can guess that they are wild cherries. The other type, sour cherries, also originated in Europe and western Asia, these are less pleasant to eat, and are used more in cooking situations and the production of jam or jelly.
---
Black Tartarian Cherry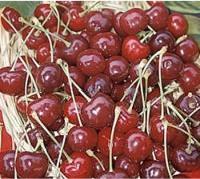 The Cherry, Black Tartarian, Prunus avium, is a firm favorite with sweet, dark purplish-black fruits, and inside the thin skin the flesh is sweet, juicy and extremely flavorful.
Although smaller than Bing cherries, it is just as flavorful and matures to a black color with a firm semi-acid pulp. It is an early bearer, with an early-to-mid-season June harvest which makes it an outstanding choice for the home orchard.
The Black Tartarian Cherry is extremely hardy and disease resistant, strongly recommended for the South. It can be pollinated with any other sweet cherry. Plant Black Tartarian in full sun and in well-drained soil. Cherry trees can be used as specimens and shade trees on larger properties.
Suitable for zones 5-7
---
Bing Cherry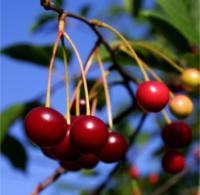 The Bing Cherry is one of the finest commercial sweet cherries and it is the most famous sweet cherry variety. It produces a very large, delicious cherry that ranges in color from a deep garnet to almost black. The skin is smooth and glossy and the flesh is firm, juicy, and sweet.
Bing cherries are great for cooking as well as out-of-hand eating. The Bing Cherry tree is pollinated by Black Tart, Van, Rainier and Lapins. Also Stella in cooler climates.
Suitable for zones 5-9
---
English Morello
If you love cherry pie then the English Morello is a fantastic late-ripening tart cherry used for pie making and cooking, frequently eaten fresh when fully ripe.
The dark red to nearly black fruit with dark juice can be used when making liqueurs and brandies.
These cherries are often found canned, packed in syrup or dried and in preserves. This cherry also freezes well.
Suitable for zones 5-9
---
Stella Cherry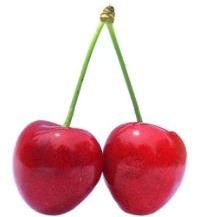 The Stella cherry is self pollinating. It is a large, nearly black, richly flavored sweet cherry. Similar to its parent, Lambert.
It is a great pollinator for the Bing cherry tree, except in mild winter climates.
The flesh is almost black in color. It is an excellent cherry for fresh eating and is also resistant to cracking.
Suitable For Zones 5-9
---
Gardening Tools

›
Fruit Trees

›
Cherry Trees