Riding Lawn Mowers Are The Perfect Choice For Home Owners Who Value Their Time
Riding lawn mowers are the ideal companion for the homeowner and professional gardener who have large lawns to manage.
Their high mowing effectiveness is complemented only by their almost effortless operation, exceptional driving qualities and an all-encompassing accessory range.
A typical type of riding mower is the lawn tractor, generally designed to look like a compact farming tractor, with the cutting deck mounted in between the front and rear axles.
These mowers routinely have an opening in the side or at the rear of the housing where the cut grass is expelled. Some models have a grass catcher attachment at the opening to bag the grass clippings.
In addition to their grass cutting abilities, riding lawnmowers frequently support other pieces of equipment such as rotavators, rototillers, snowplows, snowblowers, backyard vacuums and in some cases front buckets and fork lift tines.
Transmission Types
The most widespread types of transmission for tractors are manual transmissions, and continuously variable transmission , referred to as hydrostatic transmission.
These transmissions types come in several different forms, from pumps driving individual motors, which may very well include a gear reduction, to totally integrated units which contain pump, motor and gear reduction.
Hydrostatic transmissions are more costly than mechanical transmissions however they are much easier to work with and can transfer increased torque to the wheels in comparison to a regular mechanical transmission. The electric drive is used less often and tends to be the most expensive of all.
---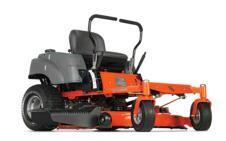 Husqvarna Zero Turn Mower RZ5424
This Husqvarna Zero Turn Mower is powered by a 24hp Kawasaki FR series engine and offers true zero-turn functionality, with twin, maintenance free integrated transmissions, heavy duty front casters and a robust tube steel frame.
The first time you try this mower you'll think you're driving a car. It is very easy to control and the instant response of the steering is absolutely amazing.
You'll soon be mowing lawns in a fraction of the time compared to many other riding mowers.
---
Return From Riding Lawn Mowers To Lawn mowers Main Page