The Pear Tree Provides Delicious Fruit That Is Rich In Fibre And Nutrients
A pear tree makes a wonderful addition to any garden and is an excellent source of minerals and vitamins. Pears in their different forms are fantastic for eating, baking, and canning.
Irrespective of whether you prefer to grow great tasting pears for eating, or would like to do some baking, there are several high producing varieties to choose from.
Pear trees can be grown in the garden, large pots or as espalier trees against a wall or trellis, and just like apple trees, most will require at the very least 2 trees to make sure flowers are fertilized to produce fruit.
However, before you choose which pear tree you wish to grow in your garden, you will want to consider the size. This can be established by its rootstock (the lower part of the tree on to which different varieties are grafted). If its rootstock is a traditional pear variety it will need more room than if the tree is grafted on to quince stock..
You can purchase espalier-trained trees at a year-old tree, and train it yourself by pruning the branches so the tree grows flat against the wall in a fan shape, or along horizontal lines. You can also purchase trees that are 2 or 3 years old and already trained, these have the additional advantage of bearing fruit sooner.
Planting Your Pear Tree
Start by digging a hole somewhat wider and deeper than the roots of the young tree. Partially fill the hole with compost and place the in the roots. Tie the tree securely to a support and fill in the hole with soil. Make sure it's is well watered, particularly during the dry weather.
---
Bartlett Pear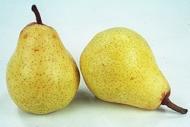 The Bartlett produces a pear that is bright yellow. It is the nations leading pear variety. They tend to bear fruit for up to 50 to 75 years on a good site.
The fruit is aromatic and is outstanding for fresh eating. Along with its very sweet and juicy flavor for eating, it is widely used for canning and cooking because of its excellent taste.
The Bartlett Pear trees are self-pollinating, however a pollinator will help the tree bare better fruit. They do require bees to help pollinate. Bartlett Pears do not ripen properly on the tree, so growers pick the fruit when it is mature but green.
Shinko Pear
Juicy, sweet, flavorful, refreshing, crisp like an apple. The Shinko pear is an Asian Pear and is often called an apple because of its crispness and round shape.
The Shinko Pear has flesh that is yellowish white with a good juicy, sweet flavor. It is late ripening and of excellent quality. It ripens in mid-August to September in Central California.
It has golden brown russeted skin and requires 450 hours of chilling. Shinko is the most fire blight resistant of the Asian pears. It is pollinated by Hosui, Chojuro, Kikusui.
Orient Pear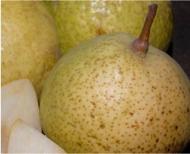 The Pear Orient, Pyrus communis, is good for cooking as well as having great landscape value as a flowering spring tree. The trees grow huge, as do the fruits.
The Orient pear ripens in August, having the reputation of being the heaviest bearing pear tree. The Orient pear tree is very large in tree size and usually grows 20 feet tall in standard sizes.
Pears have shiny deep green leaves offering summer shade and are covered with white blossoms in the spring. Well-drained sandy loam soils are preferred, but pears will grow on many soil types if good drainage is provided. Pears will grow more vigorously and produce more fruit in full sun.
Bosc Pear
The Bosc Pear is sweet and juicy which is why it is considered one of the favorite all time pears.
It has a long and narrow shape with brown skin. It has been a favorite of many backyard gardeners for years.
The Bosc Pear does require a pollinator which could be a Bartlett or any other pear variety.
Harvest time is September and it requires 800 hours of chill time
---
Return From Pear Tree To Fruit Trees Main Page