Plant Your Own Peach Trees For A Scrumptious Supply Of
Home Grown Fruit
Peach trees tend to favor full sunlight and well drained soil. For optimum results you should thin the branches on an annual basis to enable sunlight to reach the inner parts of the tree.
For the most part a peach tree does not need a pollinator to produce fruit. Simply position your fruit tree in an area where there is deep sandy, loamy ground.
In case you have more peaches than your tree is capable of holding, thin the crop so that fruits that are left will be larger and tastier.
You should ensure that plant debris and grass is kept away from the trunk of the tree, as you don't want the tree to be competing for nutrients.
It's also a good practice to leave an area of approximately 3 feet around the trunk and apply mulch. When trees are bearing fruit you should ensure they are watered weekly if there is insufficient rainfall.
There are many wonderful varieties of peach suitable for growing in the home garden.
---
Elberta Peach
The Elberta Peach shown here is a good example. It has very large fruit, and is the most commonly known yellow canning peach. The skin is red blushed over a deep golden yellow color. It's as sweet a peach as you could wish to have on the table.
In addition to the scrumptious fruit, it's an impressive tree. Early in the year, rose red blossoms will fill the air with a wonderful aroma. It grows well in an extensive geographic belt, from Zone 5 right through to the northern portion of Zone 9. This is quite possibly the finest peach tree to be found anywhere.
---
Suncrest Peach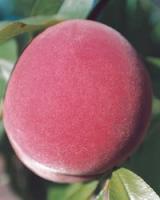 The Suncrest Peach has a bright red skin over yellow. The red skin is about 80% red with the yellow background. The flesh is yellow and exceptionally firm with good texture and flavor.
The tree is vigorous, self-fruitful, and a consistent producer. Its blossoms are frost hardy, and it has a hardiness record that was tested in Eastern sites.
It is ready to harvest at the end of July in central California and requires 700 hours of chilling.
---
Golden Jubilee Peach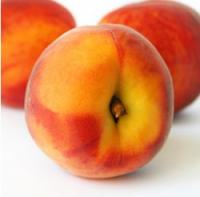 The Golden Jubilee Peach, is amongst the best of the early peaches. It produces flesh that is tender, fine grained, juicy, and has excellent quality.
The fruit is medium to large and oblong in shape. It is an attractive yellow skin peach for home use and canning. This freestone is known for its ability to survive cold winters.

Golden Jubilee needs clear, hot weather during its growing season and requires well-drained soil as well as a regular fertilizing program. It also requires heavier pruning than any other fruit trees to maintain size and encourage new growth.

---