You Can Start Your Growing Season Earlier With
A Mini Greenhouse
Even If Space Is Limited
A mini greenhouse is a great asset for home owners who are limited on space, or only wish to manage a relatively small number of plants and because of its small size it can be place just about anywhere including balconies and patios. Despite the fact that it is small it provides very same advantages that a regular greenhouse will.
These greenhouses are the perfect choice for someone just starting out, and who wishes to dip their toe in the water before spending a larger sum on a much more substantial structure.
A large number of seeds can be started off in the greenhouse much earlier which can make gardening much more enjoyable for hobbyists and home gardeners.
You can start off most types of flower,vegetables and herbs, all of which can be grown successfuly throughout the best part of the year.
In addition to starting off seeds, these mini structures are useful for tender perennial plants. By placing them in plant pots, they can stay strong and healthy during the course of the winter months until it is time to transplant them the following year.
However, because of their light construction they can be blown over by strong winds, so it is wise to anchor them down securely. If possible they should be placed somewhere that will afford some protection from the elements whilst not restricting the amount of light they receive.
Gardeners who like to be hands on can choose one of the do-it-yourself greenhouse kits that are available in the market. These kits usually have between two and four shelves and should include detailed assembly instructions for the beginner.
Any gardener will benefit from having a greenhouse even a small one. Looked after properly and used correctly it can turn out to be to be a wise investment, and yield significantly better results than planting straight into the garden.
---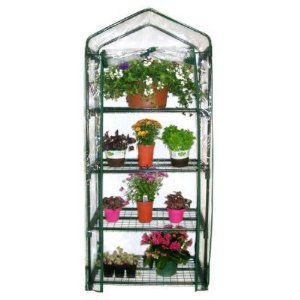 Gardman Four Tier Mini Greenhouse
Virtually any home can cater for this 4-tier mini greenhouse which fits in the corner of the garden, on the deck, patio or balcony with no trouble.
It is easy to assemble in just a few minutes, (no tools required) and has a sturdy, tubular steel frame offering quite a lot of support for plant pots and trays.
There is a removable, clear plastic cover with full-length, roll-up zippered front panel which retains the heat improving growth. During the colder weather a fleece cover keeps plants alive when temperatures bottom out at -8 degrees F.
Polypropylene construction makes certain you will get many years of reliable use and it won't easily fade or crack in sun.
Gardman R687 4-Tier Mini Greenhouse
---
Return From Mini Greenhouse To Garden Greenhouse Main Page