Gardening Tools

›
Hedge Trimmers

›
Husqvarna Hedge Trimmers
Husqvarna Hedge Trimmers
For Individuals Who
Demand Only The Best

Husqvarna hedge trimmers have an excellent range of tools to match the most exacting requirements of both the homeowner and professional.
ded Husqvarna hedge trimmers are intended for trimming hedges up to chest height, and can be equipped with an adjustable rear handle for improved versatility as well as superior ergonomics when cutting the sides of hedges. This type of trimmer is most suitable for shaping hedges.
Single sided trimmers are devised primarily for straight sections of hedge. Having teeth on one side of the cutting bar, the blade can be longer without worrying about equipment becoming too weighty. Whilst a lengthier blade enables you to clip larger areas in a single sweep.
Pole hedge trimmers are designed for cutting high and low hedges as well as ground cover. With a pole hedge trimmer it's possible to cut high hedges without having to use a ladder.
And since you can angle the cutting bar you can work more speedily, and you'll find that it's easier to reach when cutting high or low hedges. The engine serves as a counter-weight to the cutting bar, so the trimmer stays nicely balanced while you work.
---
Husqvarna 226HD60S...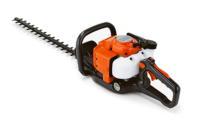 The Husqvarna 226HD60S happens to be an extraordinarily well-balanced and durable double cutting edge hedge trimmer with X-Torq® engine, and with it's hardened steel blades and sturdy design contributes to lengthy product life in the course of demanding use.
Husqvarna 226HS75S...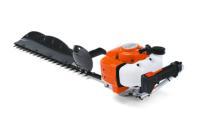 Designed with professionals in mind, the Husqvarna 226HS75S is an incredibly well-balanced and robust single-sided hedge trimmer with an X-Torq® engine.
The single-sided aspect makes it possible for longer cutter bars, a lesser amount of weight, and a lot more highly accurate trimming. An interesting addition is the leaf rake which gathers cuttings for much better efficiency.
The sturdy design contributes to prolonged product life, even when under the most challenging gardening circumstances.
Husqvarna 327he3x...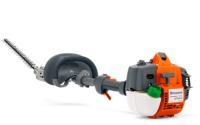 The Husqvarna 327he3x shown here is a professional pole hedge trimmer with an articulating cutter bar.
It incorporates an adjustable cutting bar for increased flexibility relating in significantly less strain on the user. Together with the user, the trimmer's greatest reach is roughly 10 feet.
The operator's position in between the engine and cutter-bar makes the tool remarkably well-balanced and comfortable to work with.
Additionally it is equipped with Husqvarna's E-TECH II engine for lots more power and superior fuel economy.
---
Gardening Tools

›
Hedge Trimmers

›
Husqvarna Hedge Trimmers