The Enjoyment Of Caring For Your Lawn Begins With A Honda Lawn Mower
Exactly How Do You Decide Which Honda Lawn Mower is Right For You?
Honda Lawn Mowers have long been recognized as a world leader in reliable, quiet and fuel-efficient machines. Their advanced technology helps to reduce the amount of force necessary to start the engine, and ensures that they start easily day in day out.
Importantly Honda mowers use of exclusive twin blades cut the grass into much smaller pieces, which results in a better looking lawn.
And since smaller pieces give rise to improved mulching and bagging performance, there's significantly less work for you to do.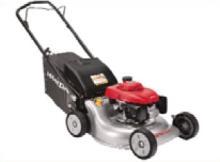 Honda is unique in the fact that is the only manufacturer to offer a twin blade mowing system, which provides you with the ultimate in mowing performance.
It has been proven through exhaustive tests that two blades result in more "bites" into the grass. The leading upper blade makes a major cut at the front followed by the lower blade which makes a smaller cut.
The clippings are then circulated around the inside deck, with the blades which continues to cut them into even and smaller pieces.
The Result...
Finer clippings are produced and that means there is less clumping resulting in a better looking lawn. As the resulting clippings decompose they add valuable nutrients back into your garden lawn.
And because the clippings are small it allows the mower bag to hold more and the end result is that you do have to empty the bag so often.
---
All Honda lawnmowers include the GXV or GCV engine. This means you get good performance with low fuel consumption and clean exhaust gas emissions.
The exceptional Honda Smart Drive transmission makes it possible for the speed to be readily controlled by making use of a Hydrostatic Transmission (HST) mechanism and ergonomic control lever, permitting the optimum speed to be easily and quickly selected based on operating conditions.
Furthermore, the unit utilizes the BBC safety mechanism that instantly stops the blade roating as soon as the clutch is released, and the VMS mechanism that enables the processing method of the cut grass to be controlled.
Th VMS mechanism can adjust the position of the shutter inside the lawnmower cover to multiple settings depending on current needs between bagging where the cut grass is bagged to mulching for which the grass is cut into fine pieces and returned to the lawn.
When the best looking cut possible is desired, 100% bagging is selected, while 100% mulching is selected for getting the work done easily and quickly. The user can easily set the desired percentage of bagging and mulching with the control lever.
So there you have it...
Regardless of which Honda mower you decide on, you can feel certain it has more than sufficient power to do the job.
---
Return From Honda Lawn Mowers To Lawn Mowers Main Page