The Garden Trowel, Possibly The Most Important Hand Tool In Your Garden
A garden trowel is probably the best tool for setting out small plants, bulbs and corms and although only small is one of the most important gardening tools you will use. It typically has a pointed, scoop shaped metal blade and a handle made from wood, metal or plastic.
In addition to digging small holes and breaking up earth it is particularly useful for planting and weeding, mixing in fertilizer or other additives, and transferring plants to pots.
You'll discover that there are numerous different styles and designs available.
There are trowels made of stainless steel, galvanized steel, even ones imprinted with patterns and color co-ordinated ones.
Every gardener has one or more trowels, which are without question one of the most convenient and most widely used garden tools. A top quality trowel is perfect for smaller gardening tasks such as planting and weeding and is invaluable for potting plants.

---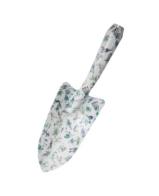 Esschert Trowel

The Esschert Design USA Herb Print Galvanized Trowel shown here is one of a number of trowels that puts and end to those boring garden tools and adds some joy and delight back into gardening.
Wilcox Trowel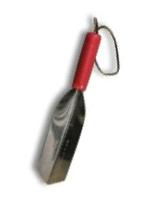 However...
If you've been searching for just one trowel that does every job this one from 'Wilcox All Pro Tools' could be the answer. It's certainly one of the better ones I have come across in my travels.
It's weather proof and just about indestructible. It has a sharp point and just the right amount of leverage for digging holes or nudging out those stubborn weeds, and the bright handle makes it easy to find if you leave it in the garden.
Additionally it has a useful depth gauge that aids with gardening, a leather strap to keep it on your wrist, and due to the fact the the steel blade is solid into the plastic handle it doesn't bend like cheaper ones tend do do.
---
Radius 100 Trowel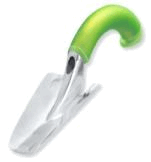 The Radius Garden Natural Radius Grip garden trowel was designed using the most upto date study into human factors and tool usage. The Natural Radius Grip, maximizes your power and comfort whilst minimizing hand and wrist stress.

Conventional trowels compel you to use your hands and wrists in a manner that may cause injuries. The curve and grip of this trowel matches the curve of the palm of your hand. This enables you to hold the tool in a safe neutral position at all angles. The large grips permit you to hold the trowel securely without exerting pressure and wasting your energy.

The blades are made from a unique aluminum/magnesium alloy. It weighs a lot less than traditional die cast aluminum, but offers strength akin to steel. This leading-edge ergonomic design is likely to make your gardening tasks far easier.

"This is easily my favorite garden tool. It's the only one I consistently remember to put back in the greenhouse so I'll know where it is."
---
Gardening Tools

›
Gardening Hand Tools

›
Garden Trowel