Building And Maintaining Your Garden Fish Pond For
Healthy Fish

Building a garden fish pond may seem very easy to begin with, and if you're content with a smallish one using a flexible liner it will be, but remember that you must exercise proper care for the fish that live in your pond as well. Large ponds will require some effort to dig out, and it is quite surprising just how much earth you will have to find a new home for
Having a pond in your garden will prove to be a center of attraction and be of great interest to neighbors and family. Your kids can also have fun learning about fish, water plants and the wild life that is attracted to water.
Building a garden fish pond requires some careful planning as it requires time and effort. You must consider the whole garden before you start digging a large hole. Choose the location carefully, as you don't want to change your mind halfway through the project, and then find you need to dig a second hole.
You may also want to take into account that the pond can affect the overall look of the garden, so the location should be the best and most appropriate you can find. Remember that the pond's location should be at the middle or highest elevation.
You don't want to have a garden fish pond that's flooded when heavy rains occur, and besides the fish may get washed out of the pond. Another important thing that you should keep in mind is to keep away from deciduous trees if at all possible.
Deciduous trees shed leaves frequently and so, can pollute the pond if left unattended, or unless you have an effective water filter in place. Some fish are far more perceptible to pollution particularly Koi Carp.
Koi Carp are amongst some of the most amazing fish you can keep in your garden pond, but they do have special requirements if they are to survive and thrive. A large pond is required to keep these magnificent fish, so you should be prepared for some hard work if you want to keep them.
---
The Beginning Of A Koi Fish Pond...

In fact my son has just taken on a project to build a pond for Koi Carp, here is the start. Once completed I'll add a stage by stage breakdown with photos. Unfortunately we can't get a mini digger in so it's a case of removing the soil the hard way.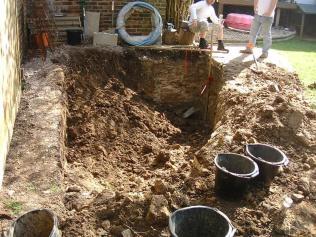 ---
You also have to determine the size of the pond for the amount and size of fish you intend to keep, for a variety of plants, and it should be proportional to the garden's size.
The pond should also be placed in a location where it receives plenty of sunlight so that the plants and fishes are kept healthy.
After building your pond, you will now need to take good care of it to maintain its beauty. You can't just leave the pond to fend for itself for long periods of time as fishes and water plants will undoubtedly suffer.
Having said that, if it is correctly setup your fish pond will require only a little routine maintenance, and you will enjoy many hours of pleasure from your fish and plants,and from the wildlife that come to visit.
Winter Care...

One of the most important considerations is how to care for your garden fish pond during the winter months when there are freezing conditions and leaves and other debris are likely to pollute the water.

---
Gardening Tools

›
Garden Landscaping

›
Garden Fish Pond