Save The Strain Move Heavy Loads Over Virtually Any Terrain With A Garden Cart

Many gardeners are now opting for a garden cart over the traditional wheelbarrow, as they tend to be more stable and easier to maneuver.
Carts are available in a host of different sizes and colors, whilst offering varying payloads, which make them a handy and most useful garden accessory.
In addition to moving garden waste, you can haul bags of compost, chicken feed, fertilizer and tools over uneven ground easily, and without fear of the cart tipping over.
Carts vary quite a bit on price, reflecting both in the quality and features offered. Cheaper painted ones made of metal do tend to get chipped and scratched after a while, leaving them open to rusting, but if they are stored away in a dry place after use will still give years of useful life.
---
Tricam FR110-2 Garden Cart...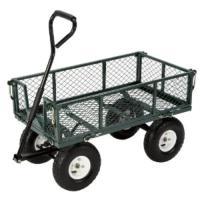 This affordable steel utility cart with its 18" x 34" deck can handle upto 400lbs in weight, and is great choice for any garden task.
With its folding removable sides, it is easily converted into a flatbed utility cart, and the padded straight handle makes it possible for the cart to be pulled by hand easily.
With it's pnuematic tires it handles undulating terrains well enough, and it appears robust enough for regular non commercial use. Being at the cheaper end of the market it is a very good buy for the money.
---
Farm-Tuff Clydesdale Hauler...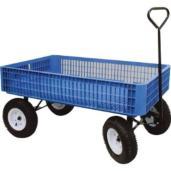 This Farm-Tuff Clydesdale Hauler is great for gardeners, landscapers, farmers, and handymen. It is very sturdy cart, with a durable crate body that is easy to assemble.
With a load capacity of 600lbs this garden cart is capable of handing the toughest of tasks.

It has nice large pneumatic wheels that manages sand and rough surfaces with ease.
This cart is competively priced and worthy of closer inspection.

---
Mighty Max Garden Cart...
However...
My first choice must be Mighty Max. It is extremely robust, and the super grip rubber wheels means it can be hauled over rugged terrain where many other carts can't go.
Because the wheels are rubber you don't have to worry about flat tires, and because the carts are made from polymers they never go rusty.
It really is a very versatile machine allowing you to move delicate loads as well as heavy bags of soil with ease.
It can take loads of upto 500lb in weight and be operated with a tub or changed into a flatbed. It can even be extended into a variable length flatbed if necessary.
If you require a versatile, strong and robust go anywhere cart which will make your life easier then it has to be Mighty Max!
---
Gardening Tools

›
Gardening Accessories

›
Garden Cart