Grow Blueberry Plants For Healthy, Delicious And
Nutritious Fruits

Every gardener should include Blueberry Plants in their backyard for a supply of incredible tasty and nutritional fruit at a fraction of store prices.
Despite the fact that these plants are self fertile, cross pollination yields the most impressive fruit crop. Blueberries are certainly on my list of top fruits, and are absolutely scrumptious, remarkably nutritious and an excellent source of bioflavanoids.
Blueberries really are a gourmet treat that can be eaten fresh or used in cobbler, cake, sauce, jam, jelly or syrup. Wild birds too love blueberries, so make sure you plant enough to share!
Blueberries are extremely nutritious and have a high vitamin and antioxidant content, and every year they get more expensive at the grocery store … why not grow your own?
In the United States blueberries rank a close second to strawberries in popularity, having among the highest antioxidant capacities among fruits. It is well known that antioxidants are necessary to optimize well being by fighting free radicals which can damage cellular structures and DNA.
There are many different varieties to choose from, some of the most sought after are listed below.
---
Blueberry Patriot...

Blueberry - Patriot
The Patriot Blueberry Plants produce gigantic fruit and is high up on the list of most liked blueberries. You can expect anything from 10 to 20lbs ofdelicious berries from a single bush. 'Patriot' has massive tart, dusky fruit that is absolutely bursting with flavor, arriving far earlier than other sorts of varieties, at the end of July.
This is a highbush blueberry cultivar which generally grows a minimum of 4' tall and is an excellent choice for a living fence. The 'Patriot' will provide you with attractive, bell-shaped, white flowers during May; tasty, exceedingly nourishing fruit in July and a display of vibrant orange color in fall. Zones 4-8
---
Blueberry Bluecrop...

Blueberry - Bluecrop
The Bluecrop Blueberry Plants have a firm light blue medium-sized fruit. This blueberry is considered the best for consistent yields, disease resistance and high quality. Dainty, waxy, bell-shaped, white flowers appear in May.
Flowers are followed by light blue blueberries that ripen in early August. It displays a fiery red fall foliage, and the reddish stems can be attractive in winter. Bluecrop is an upright, open growing shrub to 5-6 feet. Very effective when planted in shrub borders or as part of less formal shrub plantings because of its ornamental value.
The most popular variety in North America, it prefers an organically rich, medium to wet, well-drained soil in full sun to part shade. The shallow, fibrous roots need constant moisture and good drainage. Plants appreciate a good organic mulch. Prune as needed in late winter beginning in the third year after planting. The blueberry grows best on sites where most other crops fail.
---
Blueberry Blueray...

Blueberry Blueray
The Blueray Blueberry is a weighty producer of top quality sizeable, powder-blue berries with excellent dessert flavor. The wonderful pink tinged flowers are followed by edible, sweet, round, deep blue berries upto 1/2" across. It is a mid-season blueberry that ripens in early August. The foliage turns a burgundy color in the fall. It is much like the Bluecrop, but somewhat sweeter and grows most effectively on areas where many other crops are unsuccessful.
They do well on loose textured soils, mixtures of sand and peat are best, prefering an organically rich, medium to wet, well-drained soil in full sun to part shade. This deciduous shrub is dense with an upright, multiple-branched growth habit. The shallow, fibrous roots need constant moisture and good drainage.
---
Blueberry Jersey...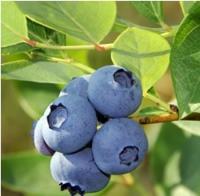 Blueberry - Jersey
Jersey Blueberry Plants have small to medium dark blue fruits that are very sweet. They ripen during August and are an extremely well-performing producer every year. This blueberry grows in areas where many other fruits have a tendency to fail.
This blueberry bush is incredibly vigorous and productive with clusters that are long and loose. It works well on loose textured soils, mixtures of sand and peat are best. It should be pruned as necessary at the end of winter starting in the 3rd year after planting
---
Gardening Tools

›
Garden Plants

›
Blueberry Plants